You are here: > Karnataka
All posts from

Name of the Organisation : Chief Electoral Officer, Karnataka
Type of Facility : Enroll Online Voter ID Card
Applicable State : Karnataka
Apply here :
Sponsored Links:
You can now ask your questions about this election. Please go to the bottom of this page.
Contents
CEO Karnataka Enroll Online Voter ID Card
Citizen Portal For Online Submission of Form for Inclusion /Deletion / Modification /Transposition
Related : CEO Karnataka Search Your Name in Voter List :
Instructions
1. Internet citizens Portal is to facilitate citizens to submit Form-6(Inclusion), Form-7(Deletion), Form-8(Modification) and Form-8A (Transposition) online
2. Register yourself in the citizens portal to get your username and password for your online submission by clicking on "New user? REGISTER"
3. To create your account click on Register.
4. Provide your valid e-mail Id and Mobile No. to complete registration.
5. After successful registration your user name and password will be sent to your e-mail and mobile phone.
How to Apply?
Go to the CEO Karnataka official website through the URL ceokarnataka.kar.nic.in and Click on the Enroll Online as a Voter link.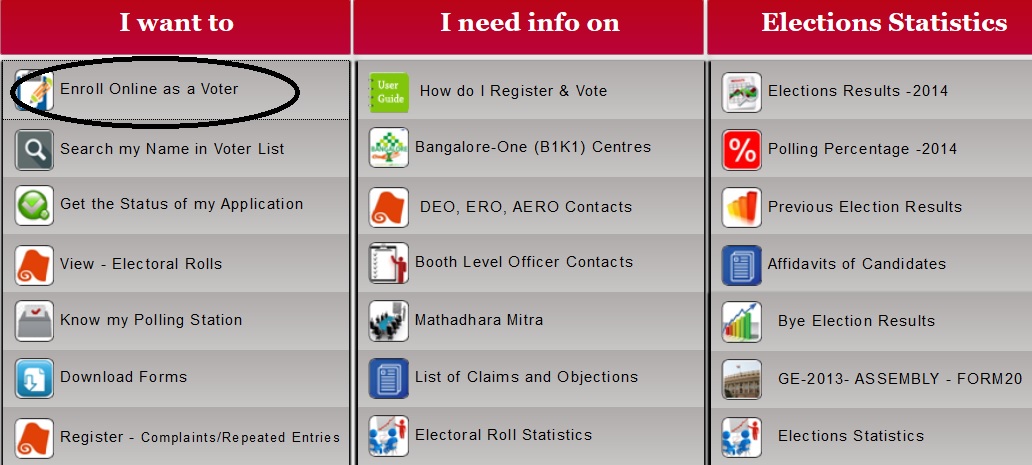 Login
You may now log in with your Userid and password to submit your applications.
Step 1 : Enter Username
Step 2 : Enter Password
Step 3 : Click Login button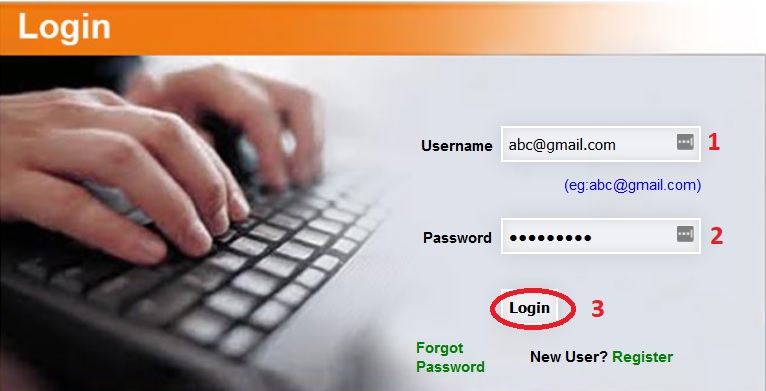 Forgot Password
Please enter email id and click GET SECRET QUESTION to get the secret question.
Step 1 : Enter Email ID
Step 1 : Enter Secret Question
Step 1 : Enter Secret Answer
Step 1 : Enter Mobile
Step 1 : Click Submit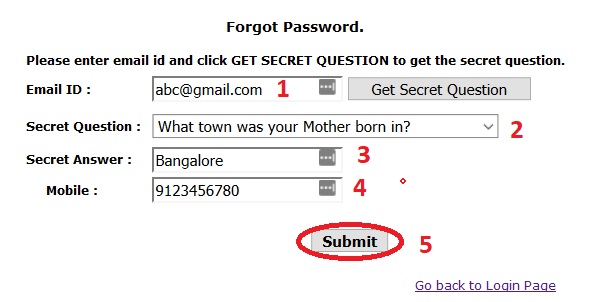 Sign in
a. Create your account using a valid e-mail Id and mobile
b. After creating your account your password will be communicated via e-mail and SMS.
c. Userid will be your e-mail id used for creating the account.
Enter the required details to Register your Account,
Step 1 : Enter First Name
Step 2 : Enter Last Name
Step 3 : Enter Email ID
Step 4 : Enter Mobile
Step 5 : Select Sex
Step 6 : Select the Secret Question
Step 7 : Answer the Secret Question
Step 8 : Click Sign Up button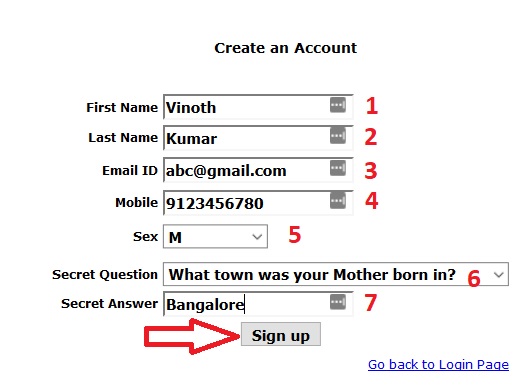 Registration Form 6 Online
Citizen have to click on the Form 6 button. They will be redirected to the Select AC Page where Citizen have to select the District, Pincode and the Assembly Constituency. Based on the District, the Assembly Constituency would be displayed.
You have to select District from the dropdown
To check your Assembly Constituency in Bangalore you can select your Ward.
Then your Assembly Constituency will display.
Once the ward is selected your Particular Assembly Constituency will display.
Select Your Assembly Constituency from the dropdown list, On selection of the District.
Select Your Assembly Constituency from the last dropdown list. User shall enter the Form 6 details either in English or Kannada.
Photo has to be uploaded mandatorily for the new inclusion. Recent Passport Size Photograph (3.5CM X 3.5 CM) and Photo should be .jpg Format.
After uploading Photo, Documentary Proof (Age and Address Proof) Select the submit button to SUBMIT the application. It'll show a pop up message that "Do You Wish to Submit- " Click on YES button and it'll proceed further.
Once Application is submitted it'll redirect to Form 6 Acknowledgement Page, where you can find out the submitted applications.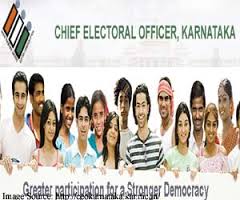 Author : Muthukalee
ШОКИРУЮЩИЕ НОВОСТИ
Related News
Professor franklins instant photo artist
Turkish airlines business class photos
Malcolm x funeral photos
Free house stock photo
How can upload photo on google images